US Women's Open 2020 Day 3 – It remains exciting
Find out how the third matchday went for the participants of the 75th US Women's Open at the Champions Golf Club in Houston, Texas and what surprises this major has brought with it so far.
US Women's Open Surprise 1: Outsider Cinderella still ahead
Hinako Shibuno was ahead after lap two, which was quite a surprise. The 22-year-old Japanese already has a major win in the Women's British Open 2019 – and that at her first tournament start on the LPGA Tour – but after that it became quiet about the always smiling player. By the way, Hinako Shibuno's nickname is not "smilling Cinderella" for fun. In the attempt to defend the title of the Women's British Open, Cinderella missed the cut in Troon and – we remember – "our" Sophia Popov won.
But the cards have been reshuffled in Houston and the results show that Hinako Shibuno feels very comfortable on the two courses at the Champions Golf Club. Although Cinderella played less brilliantly today with a 74 (+3) than on the two previous days, her pursuers did not manage to catch up with her. Hinako Shibuno leads by -4 and one stroke.
US Women's Open Surprise 2 – The Amateur Major
The major of the amateur women. Of the more than 20 players who have not yet switched to the professional camp, half a dozen amateur players survived the cut limit of +3. And some of them are at the forefront. The American Kaitlyn Papp, who plays for the University of Texas, is 5th with rounds of 71, 68, 74 even par. Sensational.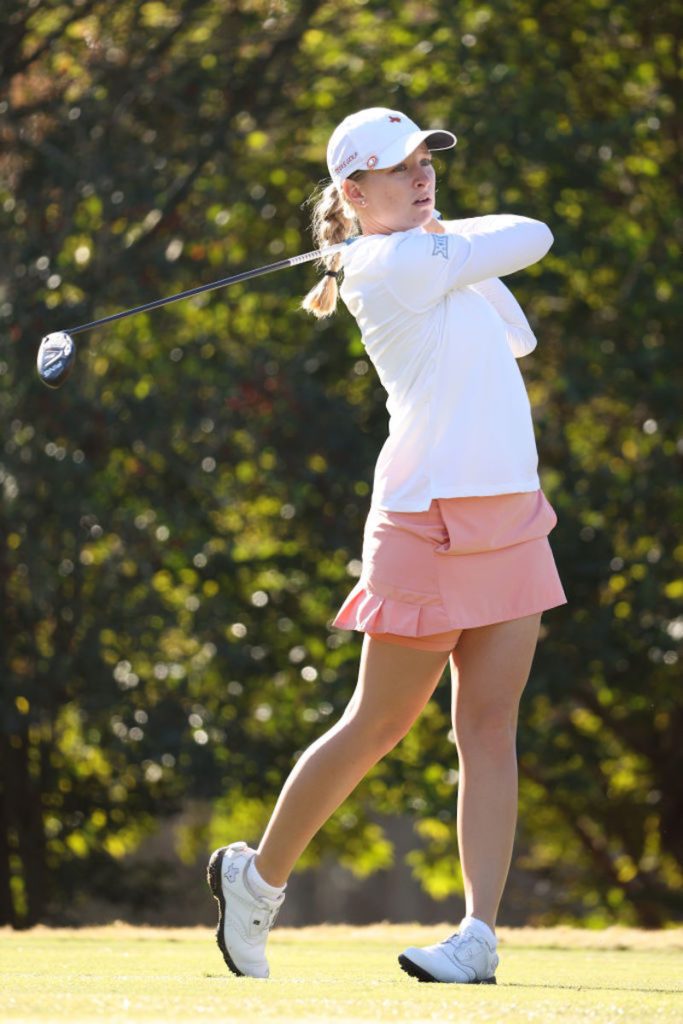 Among the amateurs there is a good dose of Swedish power in this major: Linn Grant, who is taking part in the US Women's Open for the second time, says about her first round on Thursday: "During the first four holes I was so excited, that I almost shivered, but then it subsided and the momentum worked. "- As can also be seen from the score. Grant, who plays for the Arizona State University team, was in second place after Round 2, slipping back a little on Moving Day. Maybe it was a touch of nervousness today after all? With a round of 78 on Saturday Grant is +3 and with 19th place still in the top 20 and can be extremely satisfied with that. "I'm still an amateur and haven't been able to play many tournaments, but I think my game is definitely good enough to be able to survive on the LPGA Tour," said the Swede.
Her Swedish colleagues Ingrid Lindblad and Maja Stark are also cranking things up in Houston. After three rounds, the Swedish duo Lindblad / Stark is in 14th place with 2 over par each. Just one stroke behind the nine-time Solheim Cup player Christie Kerr, who said to the concentrated Swedish power: "I definitely did not have three Swedish amateurs on my bingo card who placed in the top 20."
US Women's Open Surprise 3 – Good game with bruised ribs
Less than a week ago, two-time major winner (Women's PGA Championship 2010 and US Women's Open 2007) and experienced Solheim Cup player Christie Kerr had a vehicle accident – not with a car, but with a golf cart. Yes, flying balls are not the only dangers on a golf course. The 43-year-old bruised three ribs and had no hope of delivering good scores in this major. But if you expect the least, you usually get the cream. The US-American ranks 9th with +1.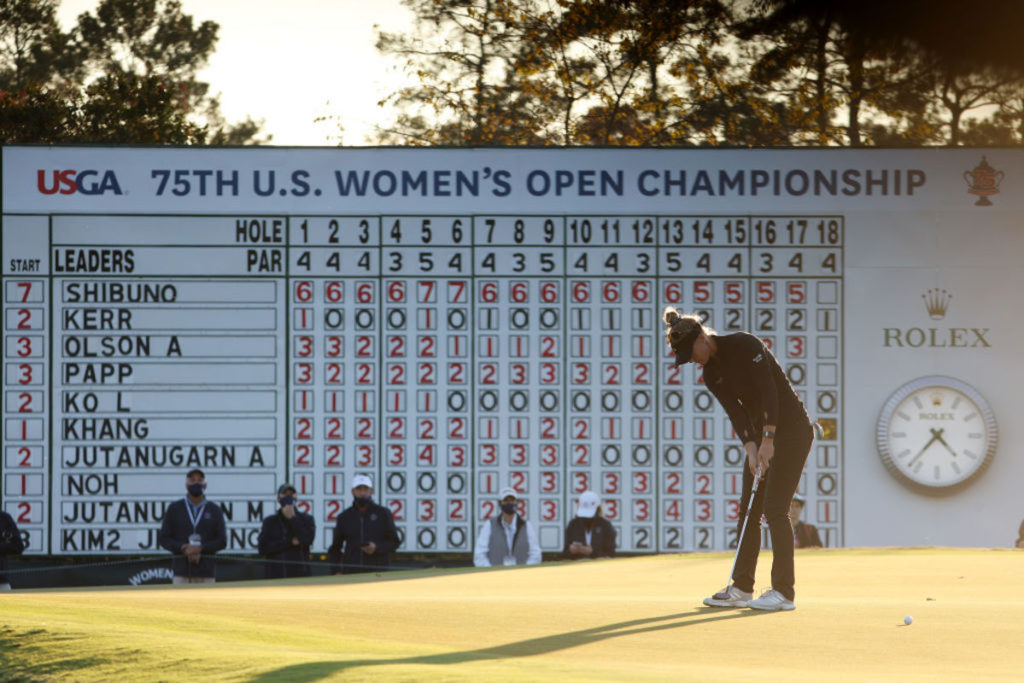 US Women's Open Surprise 4 – top players no longer there
With the Solheim Cup winners Georgia Hall (+7) and Mel Reid (+7) from England, two world-class players surprisingly could not play into the weekend. Dutch Anne van Dam also missed the cut by one stroke. Van Dam, along with many other ladies, is one of the absolute beautiful wrestlers on the tour – her swing is very neutral. Big names like Nelly Korda (world number 3) and Lexi Thompson (world number 11) are unfortunately no longer there.
All good aces come in threes
Also in round 3 extremely fabulous punches were made again. The third ace of the tournament fell on hole 12. The South Korean Chella Choi took the parade blow. With a slight draw along the fairway, unerringly on the green and "whoosh", the hole-in-one was completed.
US Women's Open 2020 Day 2 – Cinderella up front
US Women's Open 2020 Day 1 – Sophia Popov at the front
Hit every fairway with Lydia Ko – better play tips
With Sophia Popov, who was the only German who qualified for the weekend, German Lady Power continues to start in Texas. Compared to her first round, the German "weakens" a little and with a 75 round and +7 for the tournament has slipped to 51st place. However, Sophia Popov can be very satisfied with her performance this season.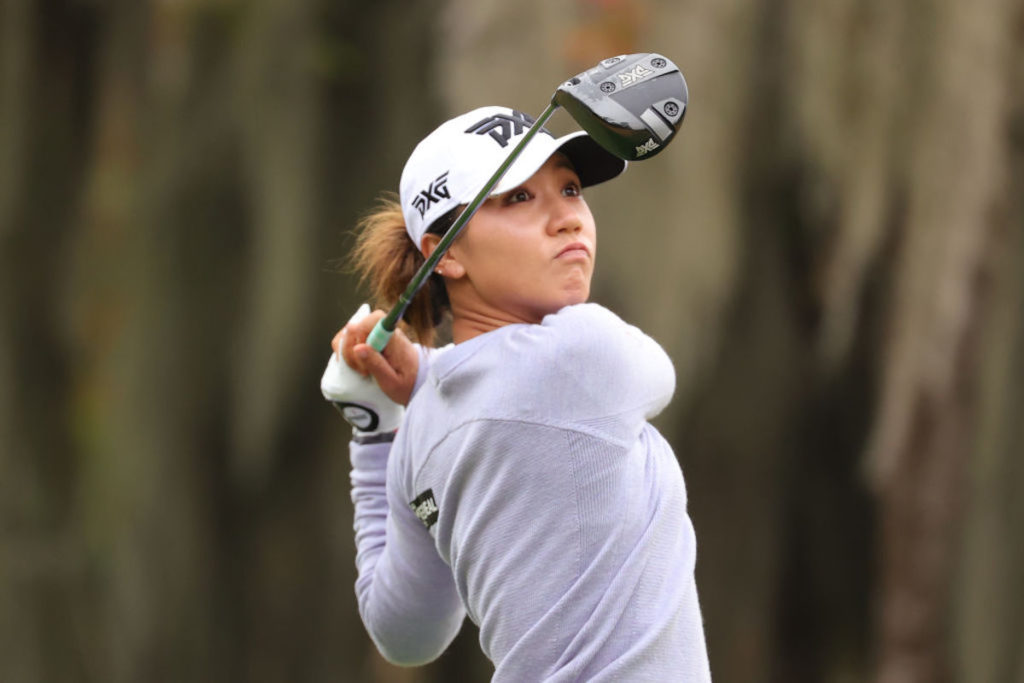 Excerpts from the leadboard US Women's Open Round 3
1. Hinako Shibuno (Japan) -4
2. Amy Olson (USA) -3
3. Ji Yeong2 Kim * (South Korea) -1
3. Moriya Jutanugarn (Thailand) -1
5. Yealimi Noh (USA) Par
5. Lydia Ko (New Zealand) Par
5. Kaitlyn Papp – Amateur (USA) Par
5. Megan Khang (USA) Par
9. Hae Ran Ryu (South Korea) +1
9. Jin Young Ko (South Korea) +1
9. A Lim Kim +1
9. Be Young Kim +1
9. Christie Kerr (USA) +1
9. Arya Jutanugarn (Thailand) +1
15. Joengeun Lee6 * (South Korea) +2
15. Maja Stark – amateur (Sweden) +2
15. Ingrid Lindblad – amateur (Sweden) +2
56.Sophia Popov (Germany) +8
* No, the figures "2" or "6" are not a typo. Due to the large number of South Koreans on the professional tours, there are also similar names or even duplications of names, so numbers are integrated into the names in order to be able to tell the players apart – no joke.